Dentures are divided into different categories based on how many teeth they replace, how they are secured, and how soon they can be worn. With several types of dentures available, it is important to discuss your options with a reputable dentist before beginning the process. You may want to consider the cost of each type as well as their aesthetic and functional benefits.
Traditional Dentures
Conventional dentures rely on the gums or remaining natural teeth for support. In most cases, traditional dentures are removable. Depending on the extent of your tooth loss, your dentist can fit you for a full traditional denture to replace an arch of teeth or a partial denture to fill spaces in your smile.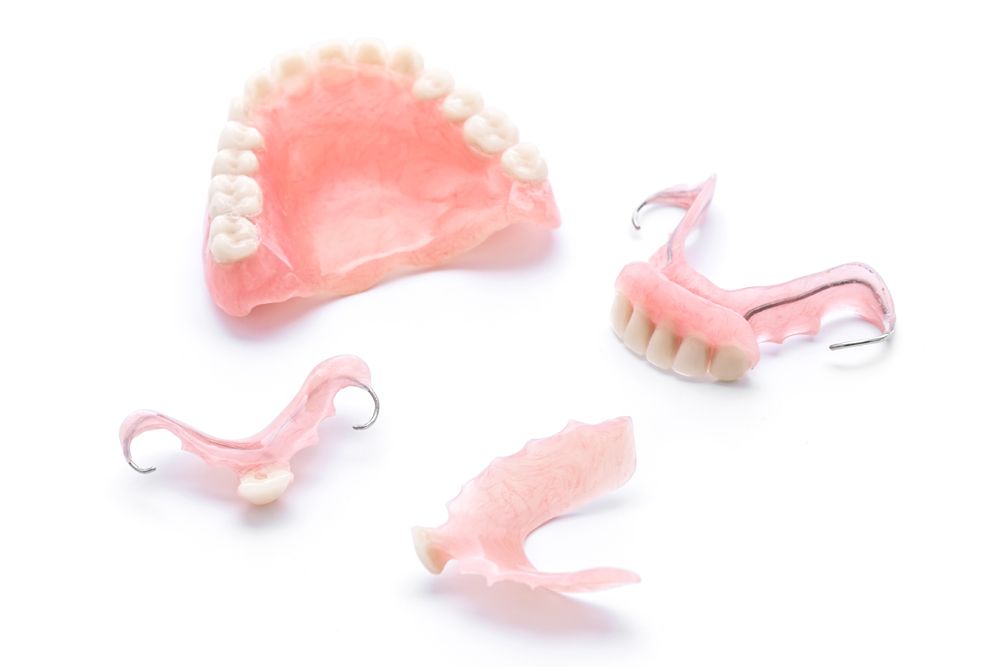 Full Dentures
Full dentures are for patients who have lost all of their natural teeth in the upper and/or lower jaw. A full denture for the upper jaw consists of false teeth affixed to a flesh-colored acrylic base, which covers the gums and the roof of the mouth. When replacing teeth in the lower jaw, full dentures are shaped like horseshoes to allow the tongue to rest comfortably.
It is important to discuss all aspects of your new denture with your dentist to ensure you choose the optimal restoration for you.
Partial Dentures
A partial denture is a removable appliance that fills gaps in a smile with intermittent tooth loss. An affordable alternative to bridges and dental implants, partial dentures use metal clasps to grip remaining natural teeth.
Implant-Supported Dentures
For qualifying patients, both full and partial dentures can be supported by dental implants. Implants are small titanium posts embedded in the jawbone. The denture is then affixed to the implants using a small connector known as an abutment. This type of restoration offers superior comfort and security, and it promotes long-term oral health. However, candidates for dental implants must have sufficient bone density to support the posts.
Immediate Dentures
For certain patients, dentures can be placed immediately after teeth are extracted. Conventional dentures require you to wait several weeks for your gums to heal fully after extraction. With an immediate denture, your dentist takes measurements of your smile before removing teeth. The denture is fabricated in advance and immediately placed, meaning you are never without teeth.
Overdentures
For patients missing most, but not all, of their teeth, an overdenture offers a unique solution. Supported by both implants and remaining teeth, an overdenture can be removable or fixed. Also known as a hybrid prosthesis, overdentures allow you to retain as many natural teeth as possible. However, this type of restoration is more expensive and time-consuming than a conventional denture.
Snap-On Dentures
A snap-on denture is typically recommended for patients who have lost all of their teeth, but still have enough bone tissue to support a dental implant. This type of denture is fabricated with locator attachments which snap onto the implants or onto locator receptors, making them both convenient and removable.
Choosing Your Best Fit
In addition to the different types of dentures available, there is also a range of quality. Custom, cosmetic dentures are a high-end solution for patients missing a large portion of their teeth. Crafted from durable, lifelike materials, cosmetic dentures are often indistinguishable from your natural teeth. However, many dentists can also make more affordable dentures for patients who need to replace their teeth on a budget. It is important to discuss all aspects of your new denture with your dentist to ensure you choose the optimal restoration for you.