New denture wearers or those who are receiving an updated restoration may benefit from soft liners. Placed between the restoration and the gums, the material helps to absorb shock and to improve the fit of a denture. There are several types of liners available, each made from materials which offer unique benefits. A dentist or prosthodontist can determine the need for a liner, as well as the appropriate type, based on a patient's anatomy, concerns and goals, and the fit of their existing denture, if applicable. With this attention to detail, soft liners can allow dentures to fit more comfortably and securely while restoring normal oral function.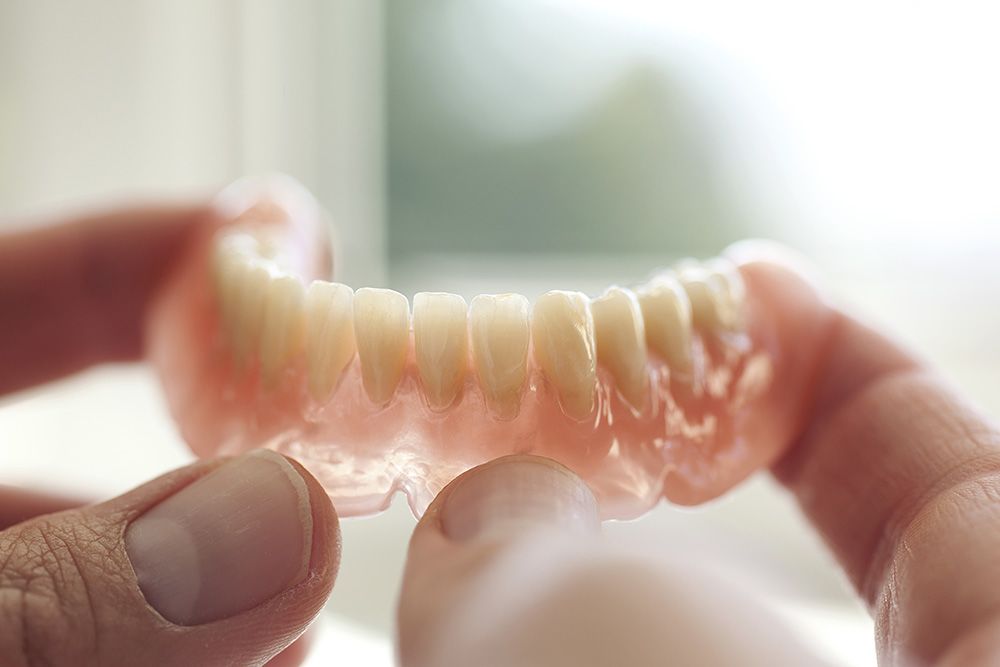 Candidates for Soft Liners
Most practitioners recommend that dentures should be relined every two years. At this point, patients can choose from a soft or a hard liner. In some cases, new patients may also require a liner. A dental professional may recommend soft liners for a number of reasons:
Pronounced bone or gum erosion, which can result in a loose-fitting restoration
An uneven jawbone, especially jagged edges in one or more locations
Sores on the soft tissue that fail to heal or gum inflammation
A current denture user finds it difficult to chew while wearing their prosthetic
Many patients find it easier to adjust to a denture when it is fitted with a soft liner. The material can also provide immense relief from issues such as discomfort and irritation.
Soft liners can also be a great short-term solution for dental implant patients. These individuals will not typically be able to receive their final restorations until they have fully healed, and they may suffer from gum irritation during their recovery. A soft liner can cushion their temporary denture while they wait, reducing soreness and allowing them to eat more comfortably.
Types of Soft Liners
Soft liners fall into one of two categories of materials:
Plasticized acrylic resins: The primary benefit of these liners is their softness. However, they are designed for short-term use and typically last only three to six months. Often, prosthodontists will use a plasticized acrylic resin liner for first-time denture wearers. These liners can also be a good solution for patients who have recently had an extraction or implant surgery.
Silicone elastomers: Although these liners are not as soft as those made from plasticized acrylic resins, they are much more durable and can last up to a year. This type is often appropriate for patients with thin or flattened soft tissue. If patients are thinking about getting a different denture, a silicone elastomer liner can allow them to try out the fit before committing to a brand new restoration.
Placing Soft Liners for Dentures
The placement process varies based on the materials used and a dentist's preferred methods. In most cases, however, it will take several appointments to achieve an optimal fit. The dentist or prosthodontist will begin by reshaping the inside of the denture. Because liners require a certain thickness to be effective, this step will make room for the material and ensure the denture fits securely. Sometimes, the dentist may be able to create it in the office, often placing the material layer by layer. Alternatively, the liner may be ordered from a lab. In these cases, the doctor will typically need to ship out the denture so the technicians can properly design and place the material.
In order to create a strong bond, the inside of the denture will often be lightly etched to provide more surface area. Then a sealer will be applied so the liner adheres to the denture. Sealers not only provide a secure bond but can also act as a barrier, preventing pigmented molecules from leaching into the porous material. This allows patients to enjoy foods and drinks like coffee, tea, wine, and tomato sauce without affecting the color of their dentures.
Adjusting to Your Liner
Immediately after receiving soft-lined dentures or having new liners placed in their existing restorations, patients may experience some minor irritation and sensitivity. A modified diet and eating softer foods for a few days can help. Patients should also be very careful about the type of adhesive they use, and many dentists recommend not using one at all. Fortunately, properly designed liners will often eliminate the need for adhesive in the first place. Your dentist can provide more information on products to use, as well as proper cleaning instructions.
Enjoy Restored Comfort
Although soft liners are not as durable and are generally more expensive than hard liners, they can be tremendously beneficial for the right patients. Because soft liners can significantly improve the fit of a denture, they allow wearers to chew easily and have few, if any, dietary restrictions. They could even enjoy improved nutrition and overall health if their food intake was previously limited. Many of these denture patients also experience a greater sense of confidence. If you are unhappy with the fit of a denture, speak to your dentist about whether a soft liner is right for you.